At a glance
Expert's Rating
Pros
Stylish design
Included cartridge and phono preamp are both excellent
Built with recycled and renewable resources
Turntable automatically stops at the end of a side
Cons
Doesn't come with a dust cover
Bluetooth speaker or headphone pairing must be done before each listening session
No USB digital auto output
Our Verdict
House of Marley continues its commitment to recycled and renewable materials, and its upscale Stir It Up Lux will make your home audio setup stand out.
Best Prices Today: House of Marley Stir It Up Lux Wireless
$399.99
The House of Marley Stir It Up Lux is a stylish and versatile belt-drive turntable that offers a real alternative to the cookie-cutter designs that dominate the entry-level market. The unit offers both wired and wireless (Bluetooth 5.3) connections and offers easy setup for anyone new to vinyl listening.
The company, run by the heirs of reggae legend Bob Marley, has made a commitment to using sustainable materials in its turntables, speakers, headphones, and charging cables. House of Marley uses Forest Stewardship Council certified wood, upcycled fabrics, recycled silicone, recycled plastic bottles, bamboo, and recyclable aluminum to manufacture its gear.
The sustainability and unique design come at a reasonable price: higher than the outstanding $250 Monoprice Monolith 60046 wireless turntable, but significantly less than the impressive $499 Audio-Technica AT-LPW50BT-RW. The Stir It Up Lux has a few quirks, but it matches all the important features offered by the competition.
Design & build
James Barber/Foundry
The House of Marley Stir It Up Lux features a solid bamboo plinth, measures 4.1 x 16.6 x 13.7 inches (HxWxD) and weighs slightly less than 10 pounds. It has a solid glass platter and an aluminum tonearm with an adjustable counterweight and anti-skate mechanism.
The turntable comes with the excellent Audio-Technica AT95E moving-magnet cartridge with an elliptical stylus. Noted for its accurate tracking and low distortion, the AT95E reproduces a level of detail that matches the quality of more expensive cartridges.
This review is part of TechHive's in-depth coverage of the best turntables.
The Stir It Up Lux has three output options: stereo RCA jacks, a 3.5mm aux jack, and a Bluetooth 5.3 radio for wireless streaming. There's a built-in phono preamp, but you can flip a bypass switch if you'd prefer to use a standalone preamp or a receiver with a built-in pre-amp.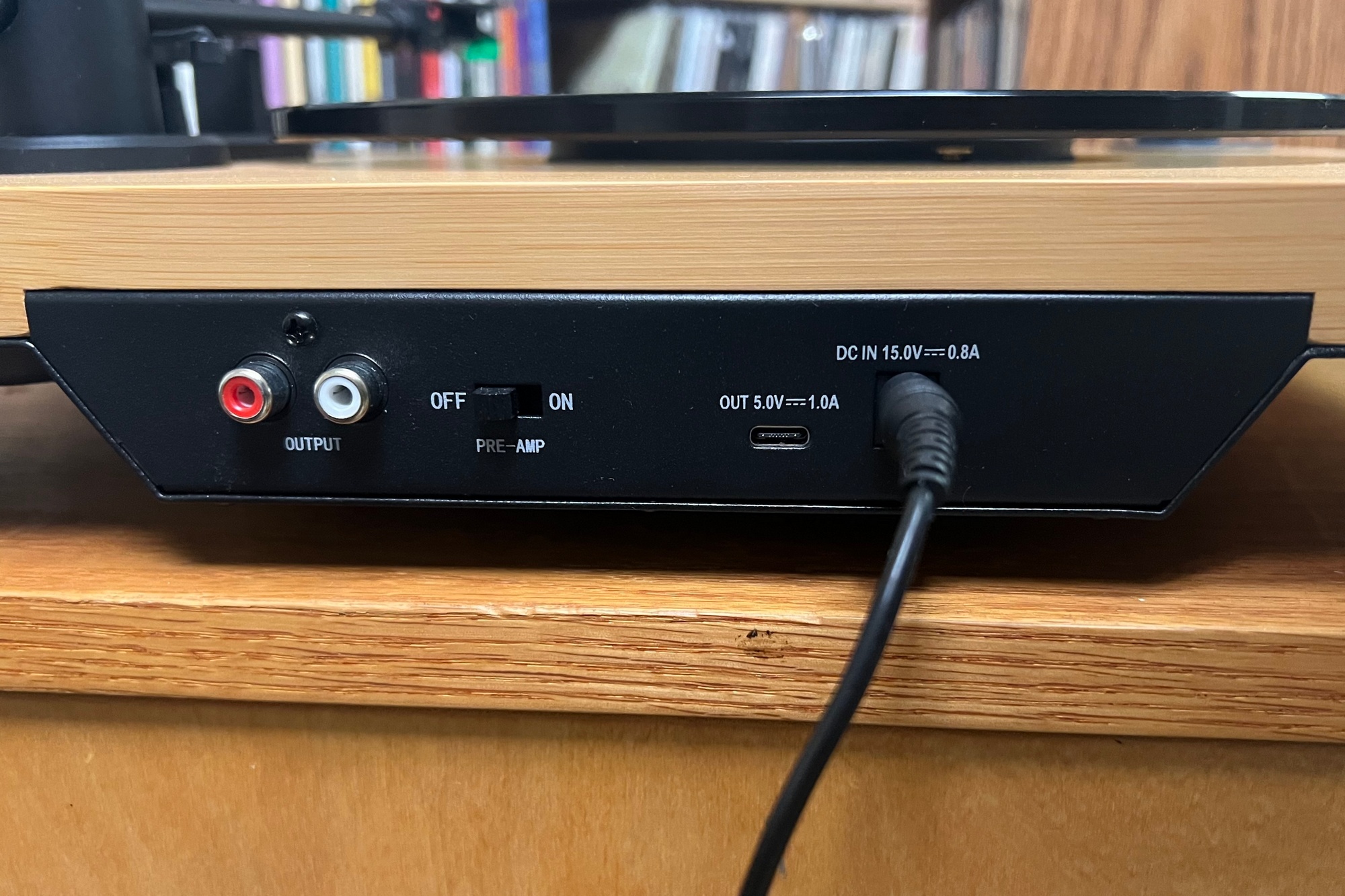 James Barber/Foundry
House of Marley does not provide a cover for this model, so buyers will need to provide some means to ensure the turntable's platter and tonearm stay dust free. The $230 Stir It Up wireless turntable comes with an odd-looking cloth dustcover that can only be placed on the turntable when it's not being used. Given how unattractive that accessory is, I wasn't surprised to not find it with this more upscale model.
Installation and setup
House of Marley makes setup remarkably simple for beginners, mostly because the cartridge is preinstalled on the tonearm. All you need to do is loop the belt around the motor pulley, lower the glass platter onto the spindle, and place the cork slipmat (more on that in a bit).
The only complicated step is sliding on the counterweight and balancing the tonearm. The included instructions show just how the tonearm should balance before the tracking weight is set. After checking that the anti-skate knob is properly set, you're ready to connect and play your records.
Wired listening is as simple as connecting a 3.5mm aux or a stereo RCA cable and plugging into an amplifier or powered speakers. Set the speed to 33 or 45 rpm with the front knob, and the turntable starts automatically when you move the tonearm over your vinyl record. The platter automatically stops spinning at the end of a side.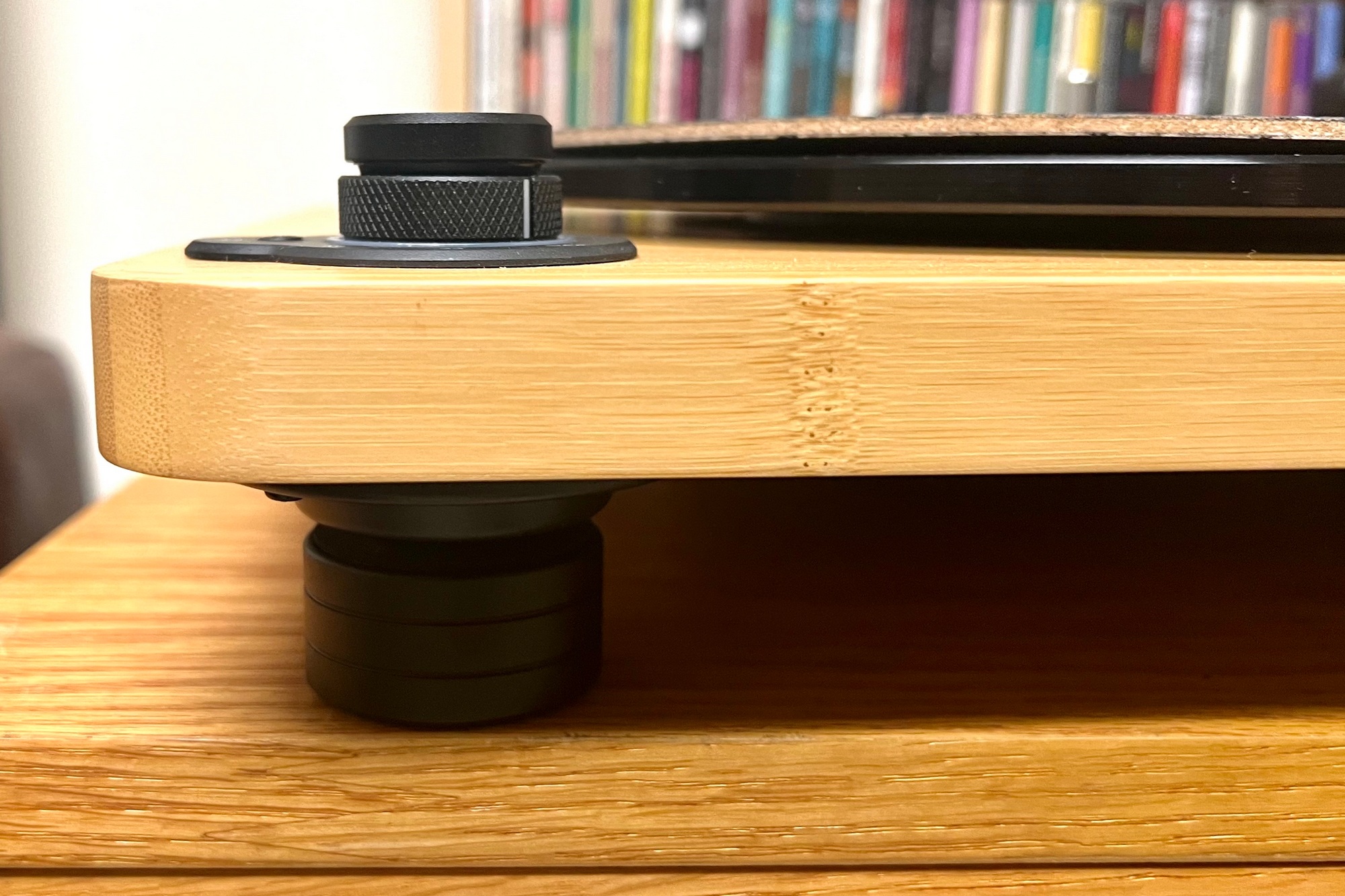 James Barber/Foundry
Bluetooth playback is a bit more complicated if you're used to using your Bluetooth speakers with a smartphone that automatically reconnects each time you power on the speaker. You'll need to pair the Stir It Up Lux each time you want to use it wirelessly, but the connection is quick once you've pressed the pairing buttons on the turntable and speaker(s).
The slipmat I mentioned earlier (and pictured up top) is a two-sided affair, with colorful images of Bob Marley and the House of Marley logo on one side that create a zoetrope-like animation while the platter is spinning—after you jump through a couple of hoops. First, install the Strobe Light Tachometer app on iOS or the LED Strobe app on Android. In either app, set the strobe speed to 11Hz, lower the lights, and aim the strobe at the turntable. You'll be rewarded with an entertaining pattern of moving logos and Bob Marley faces.
It's a fun effect the first couple of times you give it a try, and it will be a conversation starter if you have a lot of guests. Ultimately, it's a clever bonus feature that neither adds nor detracts from the turntable's performance.
Performance
James Barber/Foundry
I tested the Stir It Up Lux with a Vinyl Me Please pressing of Mort Garson's Journey to the Moon and Beyond, a new compilation LP that compiles performances from the artist's archive. Garson was a pop arranger who got obsessed with the Moog synthesizer and spent the later decades of his life making the instrument the centerpiece of his music.
The VMP pressing was limited to 300 copies and came in an exclusive "Pluto marble" color vinyl. Vinyl Me Please is an online retailer that offers records in an updated version of the old "Record of the Month Club" model. For a $36/month subscription fee, you sign up for a category (country, hip-hop, classics, rock, or an "essentials" track that covers all genres), and VMP sends you a new LP each month. If you subscribe for a full year, you can choose eight bonus LPs from a catalog of 250 titles. If that's too much of a commitment, you can try it out for three months (with one bonus LP) or six months (with three bonus records). Most VMP titles are pressed in exclusive colors, and they manage to pick some of the best ones.
I played Garson's record on my system using both the Stir It Up Lux turntable and a vintage Technics SL-1200 with an Ortofon OM-10 cartridge. While the Technics sounded just a bit better, the overall performance of the Stir It Up Lux is as good as what I've experienced with turntables from Fluance and Monolith that use the same Audio-Technica AT95E cartridge.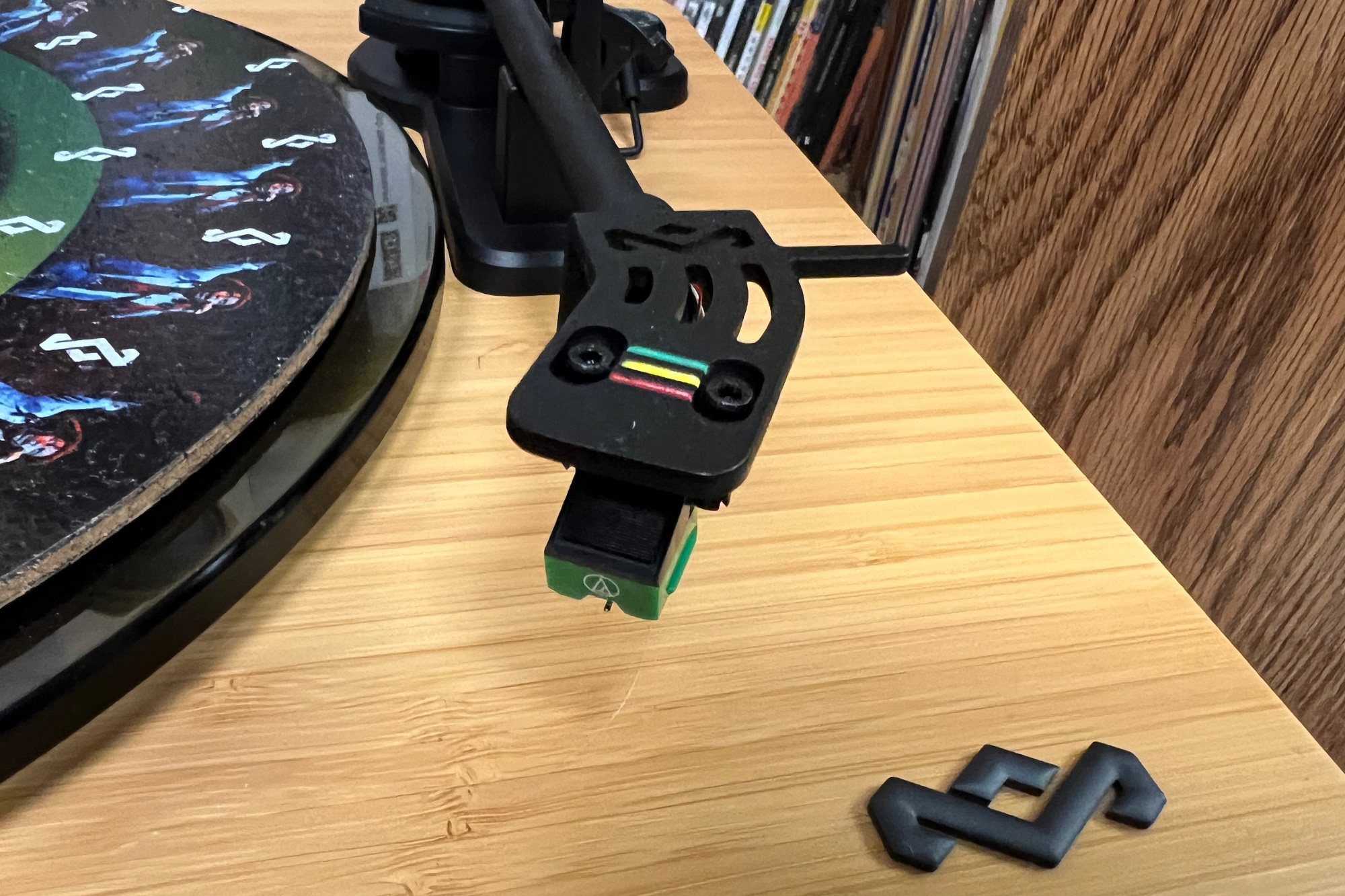 James Barber/Foundry
I also paired the Stir It Up Lux with House of Marley's $170 Get Together Duo wireless speakers. Bluetooth pairing isn't difficult, but you'll need to re-pair the turntable and speaker(s) each time. It's just a matter of putting the turntable and speaker into pairing mode and keeping them close together until they find each other. The upside is that I experienced consistently solid Bluetooth connections.
Should you buy the House of Marley Stir It Up Lux?
The Stir It Up Lux is House of Marley's best turntable to date. Its sleek looks and AT95E moving magnet cartridge create a listening experience that sounds as good as it looks. Ease of setup makes it an ideal first turntable if your budget allows. And if you want to upgrade its performance, you can bypass its built-in preamp when you buy a higher-performance outboard pre-amp. You can do the same with its cartridge.
House of Marley still offers its original Stir It Up Wireless turntable at $249.99, which is $150 less than the new model. There's also a strictly wired model (no Bluetooth) that was on sale for $129.99 as of this writing.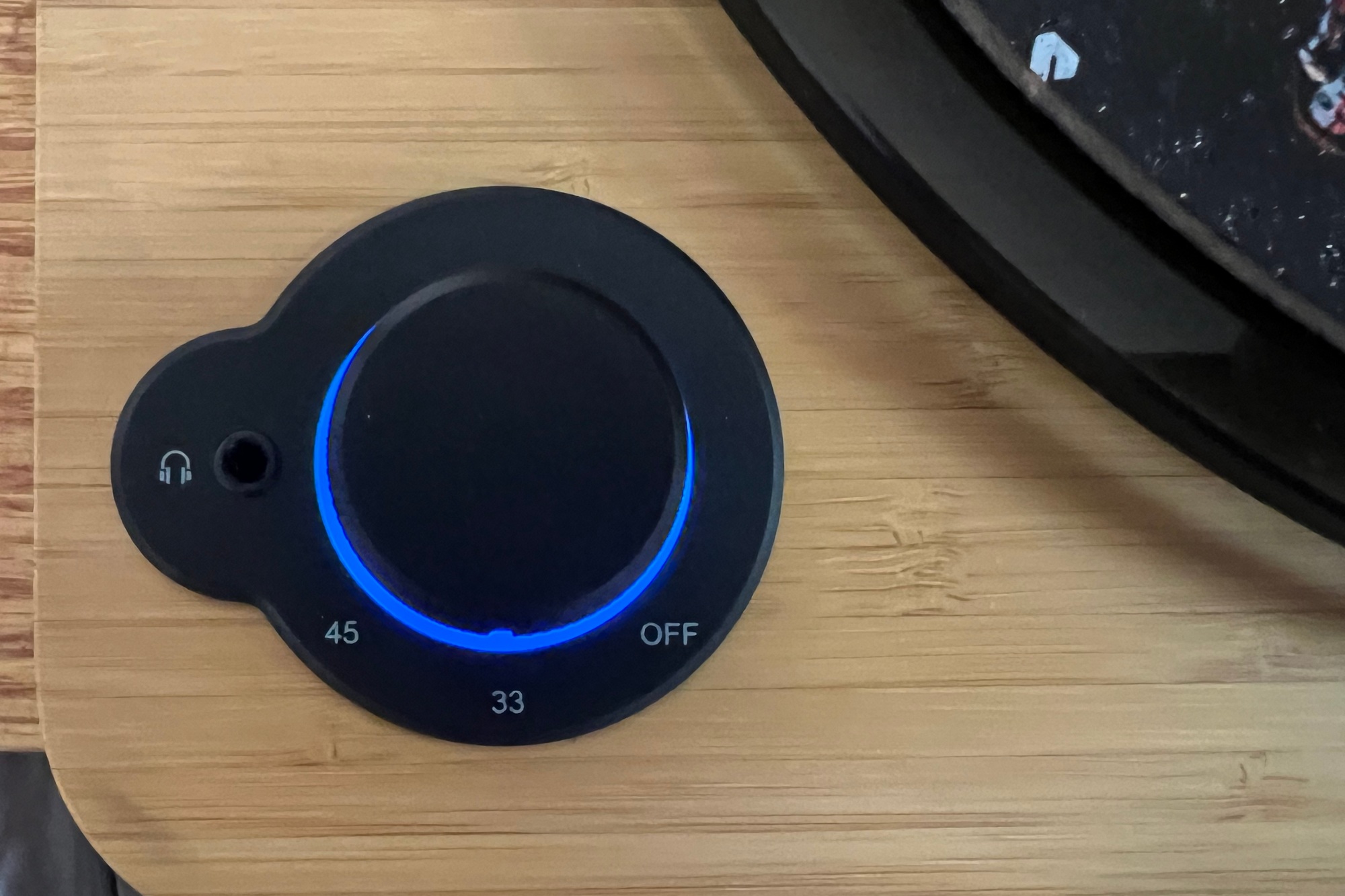 James Barber/Foundry
So, what do you get for the extra cash? The phono cartridge is the biggest step up, since the Stir It Up and Stir It Up Wireless come with the Audio-Technica AT3600L conical stylus cartridge instead of the elliptical AT95E on the Lux. The Bluetooth pairing button on the Lux is a much larger knob than the tiny button on the original model, and the indicator light is much easier to see.
The Lux's entire plinth is fabricated from bamboo, and it has four visible feet, for a more stylish look. It also has a glass platter in place of the aluminum ones that come with the less-expensive models. If you're looking to digitize your vinyl, however, be aware that both of the older turntables have USB outputs and the new model has only a USB-C charging port. If you want to digitize records with this model, you'll need a separate analog-to-digital converter.
Bottom line: The House of Marley Stir It Up Lux is designed to make a statement, and its high quality easily justifies its price.