At one point, you could pay a bundle for a set of AirPods, drop one or both, and never find either again. Apple may make money off your misfortune if you buy a replacement, but the company's motive is always building loyalty by making things better for you, so you stick with them. Such is what's happened with Find My.
Originally, Find My covered just the iPhone and iPad, and only when they were powered on and had an internet connection. Over the last few years, Apple enhanced the feature: extending it to Macs and Apple Watches, then to Apple AirPods and Beats earbuds. The company also added the Find My network, with the AirTag as the flagship tracking product, but also allowing all of Apple's hardware–eventually including audio hardware–to leverage nearby iPhones, iPads, and Macs that had an internet connection to relay securely their locations back to their owners.
AirPods, AirPods Pro, and (take a deep breath) Powerbeats Pro, Beats Studio Buds, Beats Studio Buds+, and Beats Fit Pro can all be tracked in their charging cases. For some models, the last location appears when the charging case was last opened; for others, the location tracking is continuous and indicates the last time it was in range of any Apple device.
You can play a sound on earbuds that you might hear inside the charging case; with the 2nd generation AirPods Pro, you can also play a sound on the charging case, which will be more audible.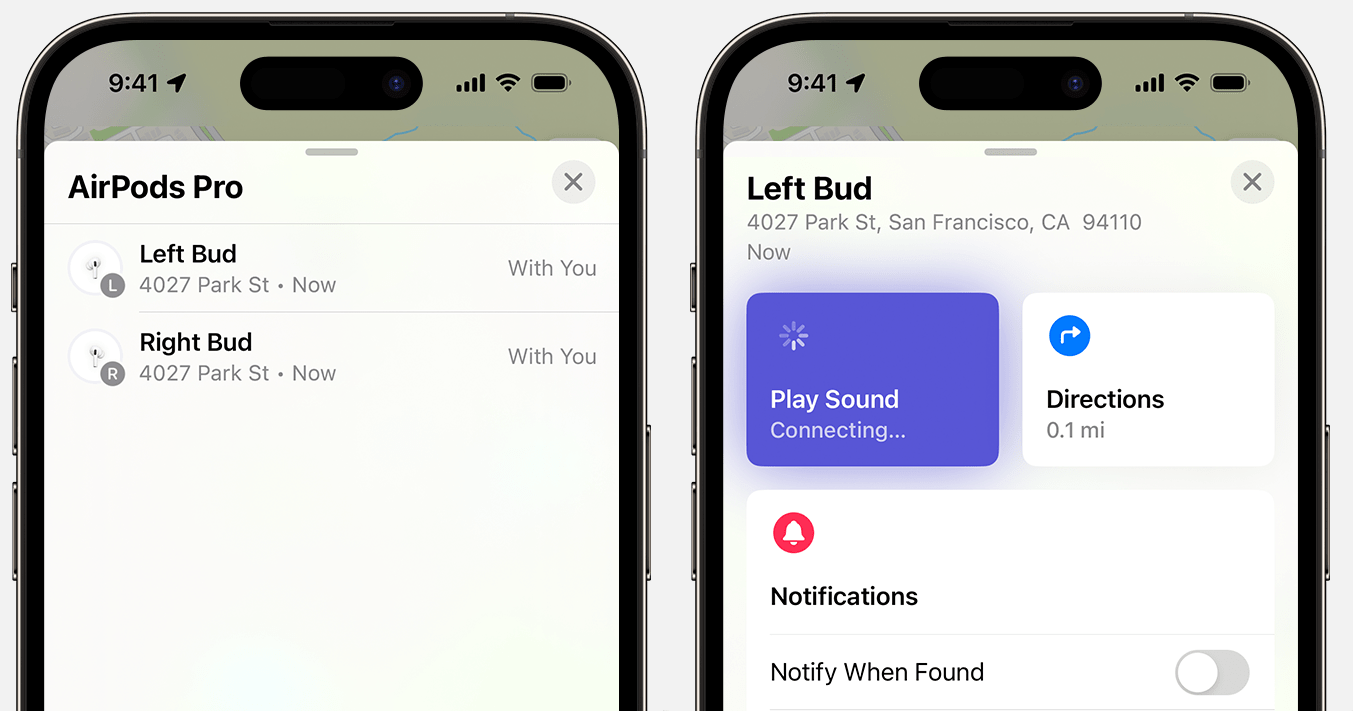 Apple
If both earbuds are out of the case, you can no longer track the charging case except with AirPods Pro (2nd generation). However, you can play a sound on the earbuds and choose to play the sound only out of the left or right earbud as an aid to finding them if they're nearby.
You can further track individual AirPods earbuds like this:
AirPods Pro 2nd generation models can be tracked individually and, if close by, found using precision location from a phone with ultrawideband. This appears as an arrow pointing towards them (or each of them) and a rough distance.
All other AirPods earbuds can be tracked. However, if they're separated from each other, only one may be tracked at a time. Once you find that one, put it in the charging case, and the other earbud can now be separately tracked. If you don't have a charging case, you may be out of luck in finding the other one if it's not in the immediate area. If the earbuds are close by, a paired iPhone or iPad will help direct you towards them and you can play a sound.
This Mac 911 article is in response to a question submitted by Macworld reader Alex.
Ask Mac 911
We've compiled a list of the questions we get asked most frequently, along with answers and links to columns: read our super FAQ to see if your question is covered. If not, we're always looking for new problems to solve! Email yours to mac911@macworld.com, including screen captures as appropriate and whether you want your full name used. Not every question will be answered, we don't reply to email, and we cannot provide direct troubleshooting advice.