Apple announced its big yearly operating system updates in its WWDC keynote on June 6. No platform is bigger or more important to Apple and its users than the iPhone, and thus no OS update is more important than iOS. After a successful reception to iOS 15 in 2021, iOS 16 was expected to add plenty of new features and didn't disappoint.
In this article, we spill the beans on everything you need to know about iOS 16 and how it's going to affect your iPhone experience. We reveal new features, design changes, and the release schedule of iOS 16, and explain how to get your hands on an early beta version of the new software.
Updated 06/22/22: Apple has released Developer beta 2 of iOS 16. The company has said the first Public beta will come in July, so it's quite possible that we'll get a Developer beta 3 before that happens. We tell you how to get the Developer and Public betas here.
iOS 16: Release
We expect iOS 16 to be release to the public in September 2022 after the annual iPhone event. But this is speculation; Apple has so far said only that it will launch in the fall.
Last year iOS 15 arrived on Monday, September 20, 2021. So a reasonable guess would be for iOS 16 to arrive on Monday, September 19, 2022, or at another point in that week. The big release to the public always happens in the fall, usually in September to go along with the new iPhone release. Additional point releases (iOS 16.1, iOS 16.2, and so on) follow in the weeks and months after with bug fixes and additional features.
iOS 16: Beta release
The first developer beta of iOS 16 was released immediately; here's how to install an iOS developer beta. The first public beta should follow in a few weeks. Then we'll get a series of evolving dev and public betas that get closer and closer to the final public release of iOS 16.0.
June 6, 2022: iOS 16 is unveiled
June 6, 2022: iOS 16 Developer beta 1 is released to registered developers
June 22, 2022: iOS 16 Developer beta 2 is released
Based on previous release dates we expect the following developments over the next few months:
July 2022: iOS 16 is released to public beta testers. Apple has confirmed this, saying on June 6: "A public beta will be available to iOS users next month."
September 2022: Final version of iOS 16 is released to the general public.
Various beta versions will be released between June 6 and September, and we expect a lot. When it was developing iOS 15, Apple released eight versions of the developer beta prior to the GM (gold master).
iOS 16: Compatability
You'll need an iPhone 8 or later to be able to run iOS 16.
That's the headline, but older devices may not get the full iOS 16 experience. Apple warns, for example, that the new Live Captions accessibility feature is available on iPhone 11 and later, while Door Detection and People Detection require the LiDAR scanner on the iPhone 12 Pro and later.
This is a big change from last year. At WWDC 2021, Apple announced that iOS 15 would run on very old models, such as the iPhone 6s (2015) and first-generation SE (2016). They've both dropped off the supported list, and the iPhone 7 is gone too. If you've got one of these iPhones, it may be time to upgrade.
iOS 16: New features
iOS 16 isn't a massive upgrade, but it's filled with fun new features that will make your iPhone feel fresh this fall:
Lock Screen
This can now be heavily customized (changing colors and fonts, for example) and upgraded with widgets for keeping an eye on the weather, your Activity rings, or whatever other information you need easy access to. And, rather like the faces on the Apple Watch, you can create multiple Lock Screens, each with its own wallpaper and widgets, and easily switch between them. See: All the ways you can customize your Lock Screen in iOS 16.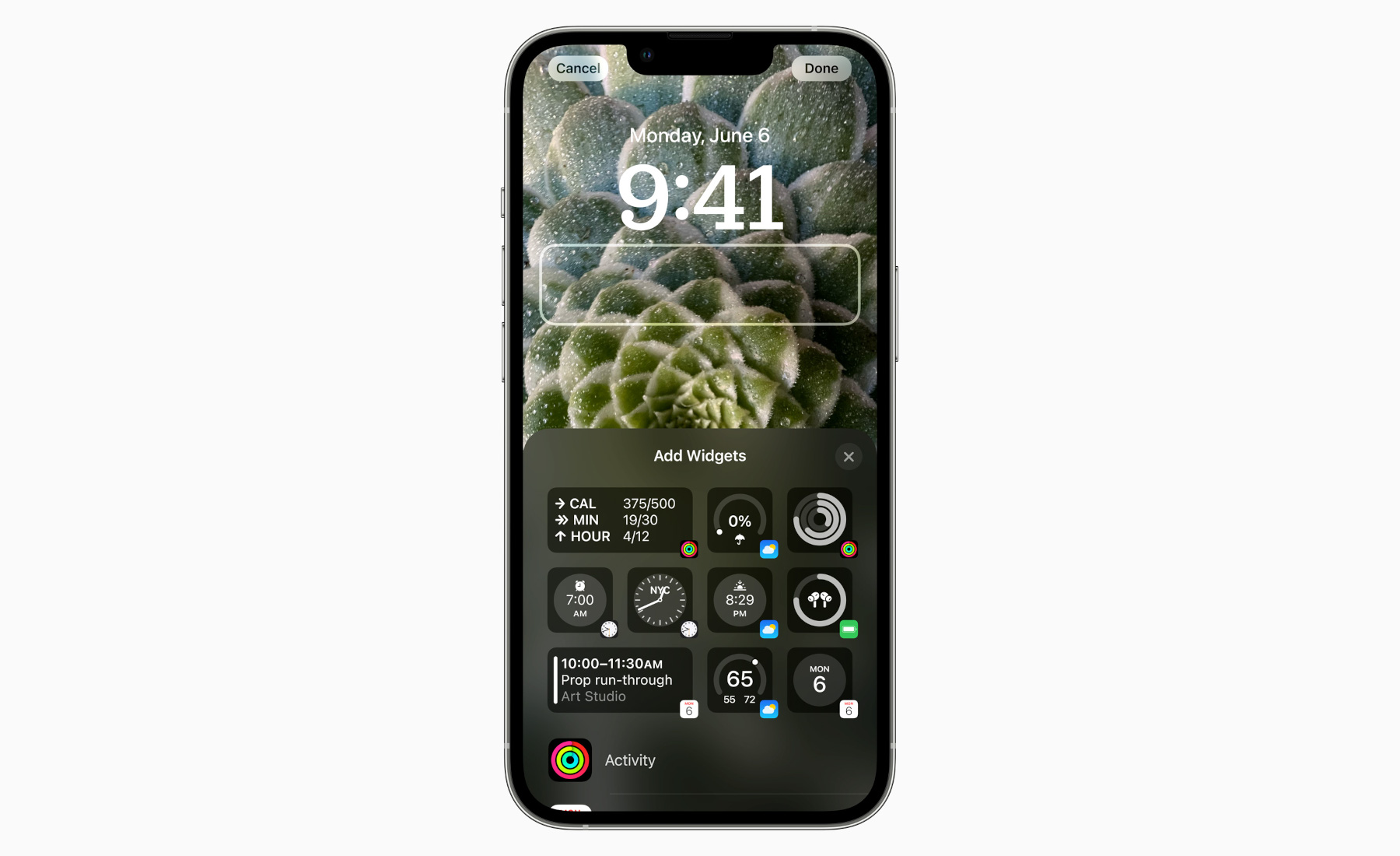 Apple
Notifications
The way these appear has been tweaked: they now roll in from the bottom of the screen, which seems like a more logical way to present them. Apple also announced Live Activities, a new way of following sports games, Uber journey progress, workouts, and so on from the Lock Screen.
Focus
Your choice of Lock Screen, widgets, and Notification settings can now be tied to Focus modes. Apple suggests "a data-rich Lock Screen while you're using the Work Focus or a photo Lock Screen while you're using the Personal Focus." By swiping to a particular Lock Screen, you can trigger the related Focus mode.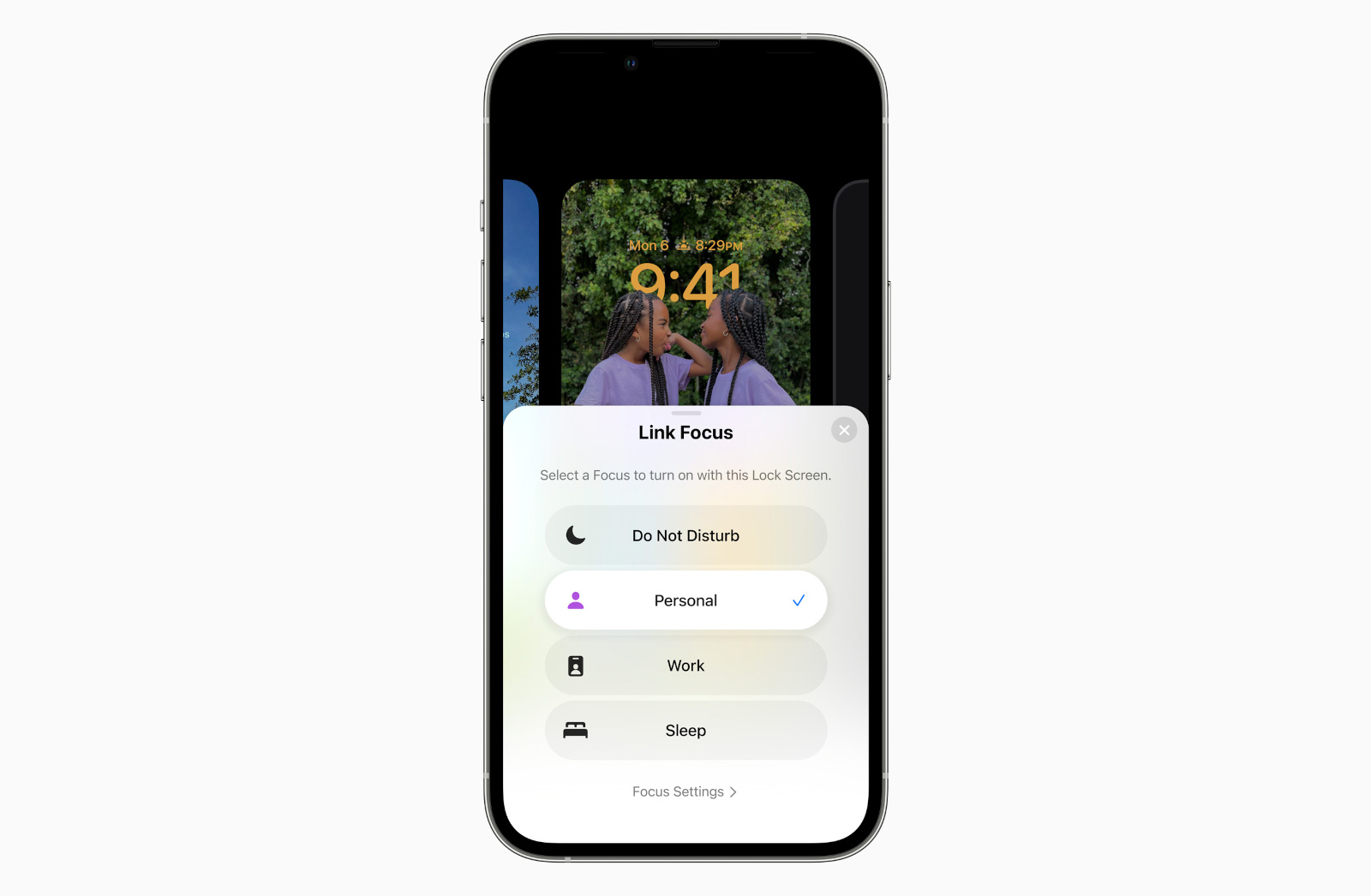 Apple
There are also now Focus Filters: If you're in a work Focus mode, for example, you might choose to see only the Safari tabs that relate to a project you're working on, or filter out irrelevant messages in Messages and Mail.
Messages
Apple announced three big changes to Messages. You can 1) edit and 2) unsend messages after they're sent, and 3) mark any thread as Unread. Less momentously, there are lots of new visual elements for customizing your Memoji, including new hairstyles and headgear, nose shapes, and poses.
Mail
New tools here include scheduled sends and, very briefly, the ability to recall sent messages. Mail should detect and warn users of forgotten attachments, and there are new Remind Later and Follow Up features for nudging the user when either they or a recipient hasn't responded to an email. See: How to edit and unsend messages on iPhone.
Live Text and Visual Look Up
Live Text now applies to video as well as still images. Pause a video and the text will become 'live' for copying or translating. Apple says Live Text is going to provide quicker access to translation and currency-conversion tools, too.
The related Visual Look Up feature–which was introduced in iOS 15 and uses AI to identify plants, animals, and landmarks in your photos–also gets an update. For a start, it can now recognise birds, insects and statues as well. But separately, it can use that same AI to detect the edges of pictured objects and enable you to tap and hold to lift them out of a photo and into other apps such as Messages. Spot a cute dog in a photo? Snip it out and pop it in an iMessage so others can enjoy it too. See: How to instantly lift the subject out of nearly any image.
Apple
Wallet
Gets in-app ID verification: a handy option if you don't want to share personal details with someone, but do need to prove to them that you are over 21, for example. Wallet also gets the ability to share digital keys via Messages, Mail, or WhatsApp.
Apple Pay
Apple announced two new ventures here: Apple Pay Later (a method of paying in four equal payments over six weeks, available initially in the US only) and Apple Pay Order Tracking (which provides receipts and order tracking information in Wallet for purchases made using Apple Pay).
iCloud Shared Photo Library
Apple calls this "The best way to share photos with your family," and it's certainly promising.
Once you've set up the shared library, everyone gets to see the same images, along with edits, captions, and keywords. But the most interesting element could be the smart automations you can use to share photos based on when they were taken, who's in them, or who's nearby now.
Safety Check
This important privacy feature, designed to aid those experiencing domestic violence or similar issues, lets you monitor who you've granted access to your permissions, and revoke them easily. It can be used to reset system app privacy permissions, and to restrict Messages and FaceTime to the device you're currently using.
For a more detailed exploration of the new capabilities coming to your iPhone this year, read our guide to the top new iOS 16 features. And we've also rounded up the smaller features and changes that will make a big difference in how you use your iPhone.
Another new feature coming to iOS 16 is the ability to verify your device and account in the background, without any need to run through any CAPTCHS options. See: iOS 16 is coming to rid your iPhone of those annoying CAPTCHAs.
Updates expected in the future
Some expected updates and new features were not announced today, but may yet appear later in the year. For example:
Always-on display
Back before the iPhone 13 launched, rumors were swirling about Apple finally implementing an always-on display with time, date, notifications, and other quick data at a glance. It obviously didn't arrive with those phones, but maybe those rumors of an always-on display feature being tested were actually about an iOS 16 feature.
There does seem to be some evidence that an always-on display could be coming to iPhones in 2022, at least on the new iPhone 14 models. Display Supply Chain Consultants CEO Ross Young has tweeted that he is "expecting" Apple to adopt an LPTO display that lowers the refresh rate all the way down to 1Hz when not in use (the iPhone 13's OLED display drops to 10Hz). A lower refresh rate is critical for preserving battery life, and battery life is no doubt the reason why Apple hasn't yet implemented the feature.
Note that this feature wasn't mentioned in the WWDC 2022 presentation, but it was never very likely that it would be: that would mean giving away a key feature of the iPhone 14 Pro months before its launch. So we're still keeping our fingers crossed for an always-on screen later this year. Is it technically an iOS 16 feature, or an iPhone 14 Pro feature? Maybe it's more of the latter since other devices will apparently be excluded.