Two of Apple's self-driving cars operating in manual mode were involved in minor collisions in August, according to the California DMV.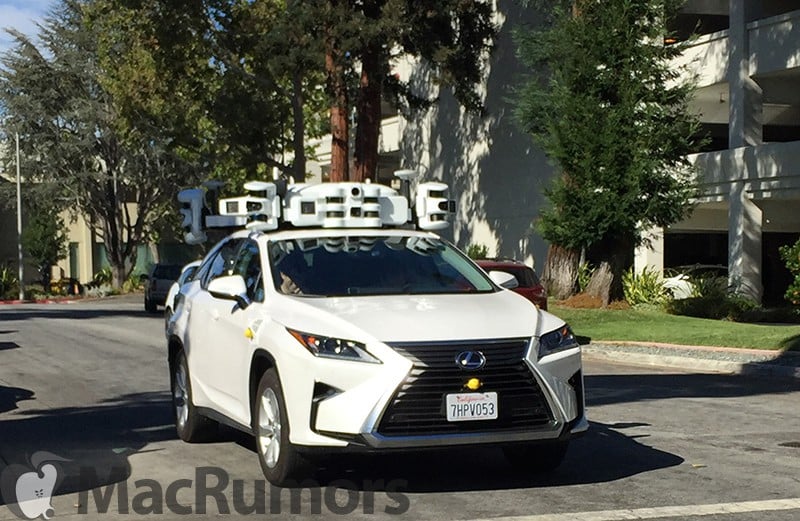 The first incident [PDF] occurred in San Diego, California in the Hillcrest area on August 19. The Lexus RX 450h was stopped in traffic and was hit by a Hyundai. The accident was described as minor with no injuries.
The second accident [PDF] occurred on August 23 in Cupertino, California, right near the Apple Park campus. The vehicle with Apple's self-driving equipment was in manual mode and it was stopped in traffic when it was rear ended by a Subaru Outback.
Both of these incidents were not the fault of the self-driving vehicle or the person operating the vehicle, and are largely not notable. What is interesting, though, is that Apple vehicles were involved in two collisions in the same month after no accidents since September 2019.
Earlier this year, the California DMV's disengagement and mileage reports suggested that Apple's Lexus SUVs with self-driving software traversed more than 18,000 miles in 2020, a steep increase compared to prior years. It's possible that Apple has ramped up its testing in 2021, leading to a higher number of incidents.
Apple has been testing its self-driving software since early 2017, using the aforementioned Lexus RX 450h vehicles outfitted with sensors and cameras. The work on autonomous driving is part of Apple's longtime car project, and rumors suggest Apple is planning to release a vehicle in the mid to late 2020s.
Top Stories
Apple's fleet of self-driving vehicles roaming the streets of California for testing now includes 69 vehicles and 92 drivers, according to information from the California Department of Motor Vehicles obtained by macReports. This means that Apple has added one self-driving car and 16 drivers since May this year. Apple has been expanding its autonomous vehicle test since it was granted a permit…
The California DMV today released new disengagement and mileage reports for self-driving vehicles that are being tested in the state, giving us some insight into Apple's progression on its self-driving vehicle software. Over the course of 2020, vehicles equipped with Apple's self-driving technology traveled a total of 18,805 miles in California, up from the 7,544 miles traveled in 2019….
Former BMW senior executive and self-driving vehicle startup founder Ulrich Kranz has taken on a role at Apple working on the company's autonomous car project, reports Bloomberg. Kranz founded Canoo, a self-driving car startup that he left earlier this year. Prior to creating Canoo, Kranz helped to develop the i3 and i8 vehicles at BMW, where he was employed for 30 years. According to Bloo…
Apple is in discussions with multiple suppliers of LiDAR sensors appropriate for a self-driving vehicle, according to Bloomberg. The report claims Apple is looking for sensors that would still be considered "cutting edge" four to five years from now. As widely rumored, the report claims Apple has been working on a driverless vehicle project for several years. Apple is said to have…
Apple supplier Foxconn is making a major push into electric vehicle manufacturing and has long been aiming to get into the vehicle market, according to a new profile of Foxconn's car ambitions that was shared by Nikkei. "If we can make iPhones, why can't we make EVs?" Foxconn founder and former chairman Terry Gou said in an internal meeting. "It is an iPhone with four wheels." Foxconn has …
Apple is in "early-stage talks" with two Chinese companies about the supply of batteries for a future Apple Car, according to a new Reuters report. Apple is in early-stage talks with China's CATL and BYD about the supply of batteries for its planned electric vehicle, four people with knowledge of the matter said. The discussions are subject to change and it is not clear if agreements with…
Apple has lost "several" top managers from its internal Apple Car project, codenamed "Project Titan," causing a potential setback to the launch of the self-driving car, according to a new report from Bloomberg. From the report: Apple Inc. has lost multiple top managers of its self-driving car team in recent months, a sign of attrition at the division involved in what could become an…
Apple is intensely researching all aspects of car engineering and manufacturing, but there are growing questions around what form Apple's vehicle project may take, according to a report from the Wall Street Journal. Speaking to the Wall Street Journal, Peter Fintl, the director of technology and innovation for Capgemini Engineering Germany, explained that Apple's movement in vehicle supply…
Kevin Lynch, who is well known at Apple for overseeing work on the Apple Watch, is set to take on a role leading the development of the Apple Car, reports Business Insider. Several sources within Apple told Business Insider that Apple has been called on to help lead the Apple Car project, which has undergone several shifts in leadership over the years. Right now, Apple Car development is…